Where & When:
Contact Mike for next starting time for the 'Christian Intro' Course
Arrange a time and a place that suits you (and your friends!)
Get a free bible and download the course for yourself at this website, www.christianintro.net
When:
Sunday afternoons, 2:00 - 3:00pm.
Where:
Saldechin Tea Room
21 King William St, Adelaide
Click below for enlarged map: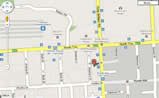 Enter from King William St - it's just a 3 minute walk from the Immigration Centre, 55 Currie St.
Look from street.